More about: Whatever Works, an exhibition of paintings by Chelsea Harris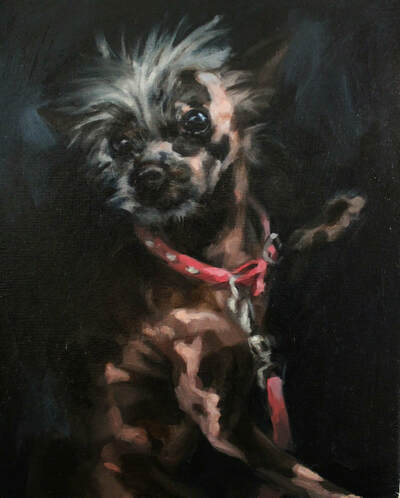 ​
Whatever Works
is a collection of paintings and drawings produced in the tenuous period following Harris's college graduation. Ranging from figures to plein air landscapes, still lives, and pet portraits, these works are often connected only by the condition that they were completed during a period of time where it is difficult for an artist to complete any work at all. Forewarned that the first years without the structure of school often prove fatal to an artist's career, Harris established her independent studio practice on renowned Immaculate Heart College Art Department's Rule #7-- "The Only Rule is Work." This exhibition chronicles the first two years since she completed her degree. Here, Harris offers an uninhibited view of whatever works she was able to produce faced with the challenge of an entirely self-determined studio practice.
Chelsea Harris is a practicing artist operating out of Louisville, Kentucky. A recent graduate from Kendall College of Art and Design in Grand Rapids, Michigan (U.S.), she earned her B.A. of Fine Arts as a Painting major with a Printmaking minor. Whether in a visual format or through creative non-fiction writing, she tends to explore personal connection and relationships. Critical theories of Aesthetics and metaphysics inform her academic and personal work to weave a dialogue between tradition, religion, rebellion, and reinvention. She intends to pursue her Masters, and eventually her Doctorate. See
https://www.chelseaharrisart.com/
for more info.
---
Pop Up Gallery Exhibitions Opportunities Available. Artists welcome to apply for a weekend show.

Mentoring sessions available on an individual basis.




Call 502-386-5481 if you are interested in taking an evening workshop or extended class or organizing an art exhibition, or special event. Studio space is also available for rent.

Brick Street Art Studios opened at 428 E. 6th Street in New Albany, IN 47150 in 2014.